The Eyecare Eyewear Team ensure that every patient is provided with comprehensive personalised advice regarding their current and future visual needs, ocular health status and visual efficiency profile. Our combination of a highly qualified optometry team and state-of-the-art computerised eye testing equipment enables the provision of the highest level in vision care and ocular disease management.
At Eyecare Eyewear we like to do things differently. With over 1200 frames from both local and international designers and access to the latest spectacle and contact lenses you can be sure to find the eyewear solution that will perfectly suit your visual needs.
Our optometry team are very experienced in the diagnosis and management of complex binocular vision disorders, learning difficulties and behavioural concerns. We routinely provide visual efficiency, visual information processing assessments and can prescribe in office vision therapy for patients of all ages.
Ever been told you're not suitable for contact lenses? The Eyecare Eyewear optometry team is accomplished in prescribing all types of contact lenses. This includes custom orthokeratology rigid contact lenses for overnight wear to allow for clear vision during the day.
We would like to invite you to book an appointment or visit one of our two practice locations Dalby and Chinchilla. It would be our pleasure to help you find the solution to your vision problems.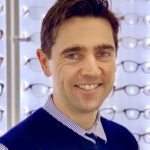 Principal Optometrist Practice Manager
Originally from Byron Bay, I attended boarding school at St Joseph's College Nudgee and subsequently completed my optometry degree, masters in business administration and graduate certificate in ocular therapeutics at QUT in Brisbane. I completed by fellowship with the Australasian College of Behavioural Optometrists in 2015. Prior to commencing Eyecare Eyewear in 2006, I was fortunate to work as a Locum optometrist in all the states of Australia. My interest include cycling, triathlon, playing cards and spending time with my understanding wife and three beautiful children. Qualifications: Bachelor Applied Science (Optometry), Graduate Certificate in Ocular Therapeutics, Masters in Business Administration & Fellow of the Australasian College of Behavioural Optometrists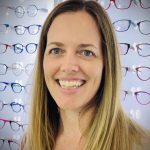 I was born in Dalby and have fond memories of being raised on our local family farm. Since completing my studies at QUT in Brisbane over 20 years ago I have been based mainly in Toowoomba, where I enjoyed over a decade of regular work trips to the Western Downs region. Volunteering in places such as Thursday Island, Mexico and China have been wonderful opportunities for me. After marrying a teacher (who works at my old high school!) I'm back in Dalby again – how lucky are we to be able to raise our little girl in a rural setting, just like me! Qualifications – B App Sc Optom (Hons), Graduate Certificate in Ocular Therapeutics.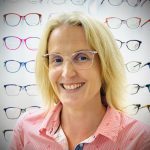 Practice Manager & Vision Therapist
Born and raised in Tasmania, I flew the coupe in 2011 and arrived on the Gold Coast now the big move out west in April 2020. I've been in the optometry world since the age of 21 studying many different aspects from vision therapy to lens making. I have a passion for behavioural optometry and still enjoy helping patients with their optical needs. I recently made the big move out west in April 2020 and joined the Eyecare Eyewear team.
My interested include travel, fitness and the odd rodeo or 10 with my partner.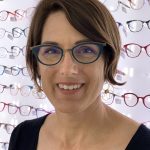 After graduating from St Aidan's School in Brisbane in 1992, I studied a Bachelor of Science at Griffith University, then worked as a pathology laboratory scientist in Rockhampton, then in England with lots of travel, and then back to Ipswich Qld. Still with itchy feet, I travelled to Canada and worked as a travel agent, selling holidays to Australia! Then home via the UK with lots more travel in between, I returned to Australia to work in pathology at the Wesley Hospital before becoming a GP and specialist Pharmaceutical Drug Rep with Merck Sharp and Dohme for 2 years. I then followed a thread through all my various roles to a calling to education and completed a Graduate Diploma in High School Teaching – Science.  I worked at Dalby State High for 2 years during which time I married my husband Tom.  In August 2021 I returned to paid work after an 11 year run of my most personally fulfilling role as mother to our three wonderful children. My current role as part time joint practice manager is presenting a steep learning curve, but it is a role I have a deep vested interest in.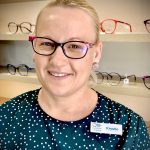 Dalby born and raised, I previously worked at two local medical practices before taking a break from work life to be a stay at home mum to my 3 children.

I have now returned to the work force and am enjoying being a part of the Eyecare Eyewear team.
I treasure time spent with my family and friends, camping, fishing and gardening.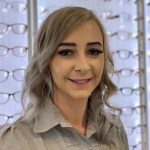 I was born and raised in Chinchilla with my family on a small acreage. At the age of fourteen I started my apprenticeship as a chef. Starting as a school based apprentice then to go ahead full time a year later. I completed my apprenticeship at eighteen to then step up to the position as head chef at the Chinchilla Palms Restaurant. I then ventured into catering for a camp in the mining industries to expand my knowledge and experience as a chef. After working in hospitality for a few years I decided to do something new where I then started my job at Eyecare Eyewear. My interests include water skiing, fishing, and motor bike riding.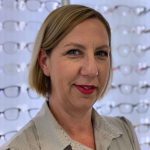 Having been a stay at home Mum for eighteen years, being involved in a wide variety of school, community and family interests, Dalby is a great place to live. I have lived here most of my life and, encouraged by my very supportive husband, I have become a successful textile artist and art tutor while raising our two children. My interests range from gardening, learning different art styles and techniques, sewing and exploring the beautiful country we live in. I look forward to bringing my unique combination of skills and interests into my position at Eyecare Eyewear to help you at your next visit!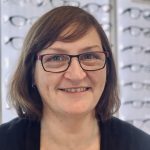 I was born and raised in Dalby. I have an adult son, David. In my younger years I was very involved in Guiding and Scouting in Dalby and surrounding districts, I was a Cub Scout Leader in Dalby for 13 years. I have worked at Woolworths for the last 20+ years and I decided I needed a career change. The opportunity to work in Optometry became a reality having worn glasses since I was 4 years old.
I enjoy camping, cooking, gardening, crocheting, singing, catching up with family and friends
and walking my dog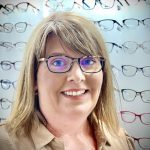 I grew up on the Sunshine Coast and on finishing school worked in retail and in an accounting firm. In 2000 I moved to Chinchilla and now live at Hopelands on our cattle and lucerne property. My other interests include interior design, cooking, music and I treasure time spent with my family and friends. Having been a stay-at-home mum, I have returned to work at Eyecare Eyewear Chinchilla where I enjoy to be a part of the team and look forward to assisting you at your next visit.